Make sure your forex diamond ea work without any problems on metatrader 4/metatrader 5
One of the biggest problems for forex traders is that they do not check a few important settings on their mt4/mt5 platforms, these settings by default may stop your forex robots. In order to guarantee that forex robots will work without interruption you have to check the settings on mt4/mt5 terminals. Here are they:


1. Run your mt4/mt5 24h per day. It is required to keep running trading platforms so the forex robots to open/close trades, if you miss this the robots will not trade.

2. You have to check if your computer, laptop, and notebook is on sleep/hibernate or any other mode. If they are then you have to set up them not to sleep or hibernate. This is really important!! The connection to your broker is important and it is your duty to make sure that it is stable.


3. Enable "Auto Trading" on your mt4/mt5 platforms. It is at the top menu of your trading platform.




You can also enabled auto trading as follows:

- go to the top menu and choose "Tools->Options". A window will open. On that window you have to choose "Expert Advisors" tab.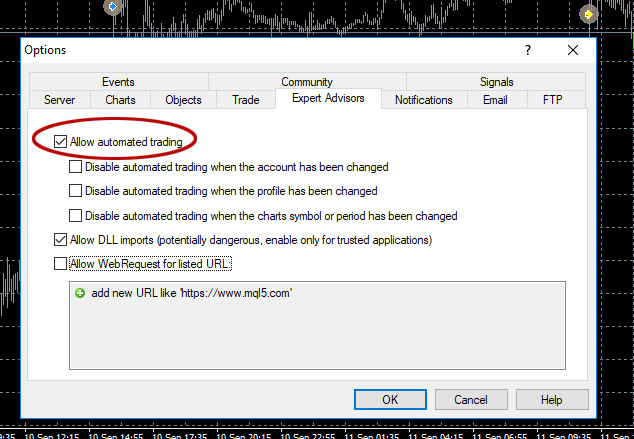 As you can see in the picture above you have to put a tick for "Allow automted trading".


4. Furthermore, it is good practice to check all the charts where you run your forex robots and make sure "Live Trading" is enabled. Here is how you can check it:

- right click on the chart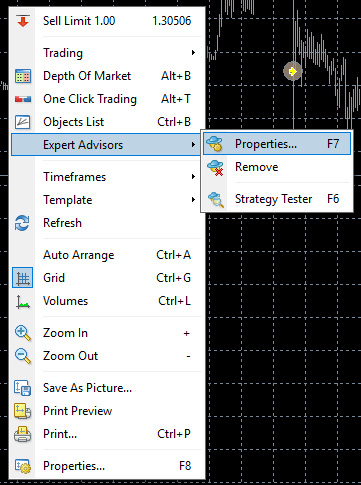 - then click "Expert Advisors->Properties"

- a window will pop-up. Here, you have to check "Allow live trading"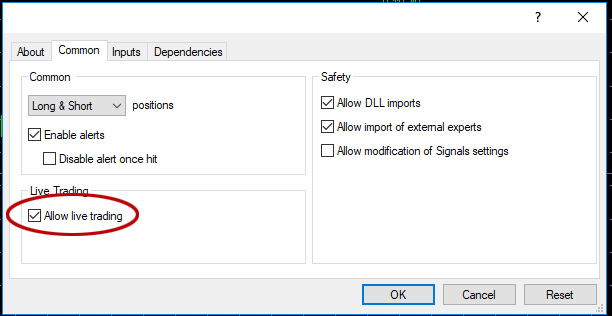 5. It is strongly recommended to check and set up metatrader 4/metatrader 5 settings as well. This will guarantee that when you do some modifications in your account, the metatrader 4/metatrader 5 will not modify your account's settings. So, do not miss to check it:


- go to the top menu and choose "Tools->Options" there you have to choose "Expert Advisors" tab.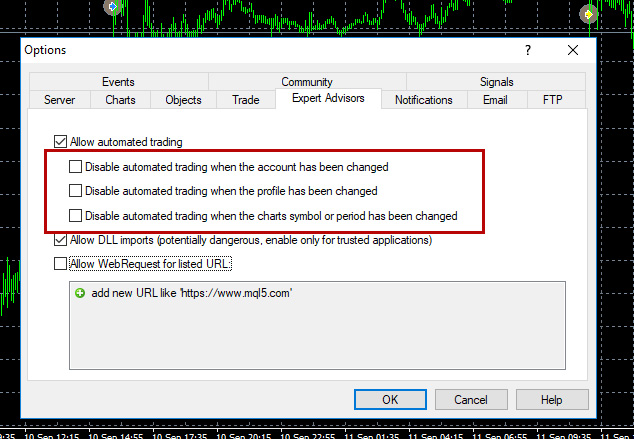 As you can see in the picture above, the ticks in the checkboxes have to be removed, and if the account has been changed the robots will continue working.


6. Make sure that your account balance is enough so you won't have problems with the robot's trading. Having low balance may stop the EAs from trading at all.


7. The rest is left to you. You can start trading and monitoring your metatrader 4/metatrader 5 trading platforms. It is good practice to check your "journal/experts" tabs. In case, there are issues or problems you can find the reasons easily in the log files of your metatrader.



Additional configuration for Forex Diamond EA on MAC OS

IMPORTANT: This is required if you use Forex Diamond EA on Mac OS.

Configure MT4 (or MT5) for Mac OS to allow WEB Requests to the following url: http://www.forex-diamond.com You can find it in MT4 (MT5) terminal -> Tools -> Options -> Expert Advisors -> Allow WebRequests for listed URL (check the image below):

IF YOU LIKE THE ARTICLE PLEASE SHARE IT ON YOUR SOCIAL MEDIA TO HELP US GROW OUR COMMUNITY!

Comments (1)